What is the Desert?
You cannot take hold of it, and you cannot get rid of it; it goes on its own way. You speak and it is silent; you remain silent, and it speaks.
Yoka Daishi, Song of Enlightenment
---

2018 Retreat
Welcome artists and writers to the home of The Joshua Tree Experiential ARTS and WRITING retreat. We invite artists and writers to attend this annual interdisciplinary weekend retreat in Joshua Tree co-curated by Sean & Ariel, two friends whose desire for alternative artistic spaces and appreciation for radical openness has led them to desert as a site of inquiry, creative praxis, and community engagement.
This year our retreat takes place November 16-18 , 2018 at Atomic Trailer Ranch Artists Retreat in Joshua Tree, CA. To register, select your Ticket and Sleeping arrangement.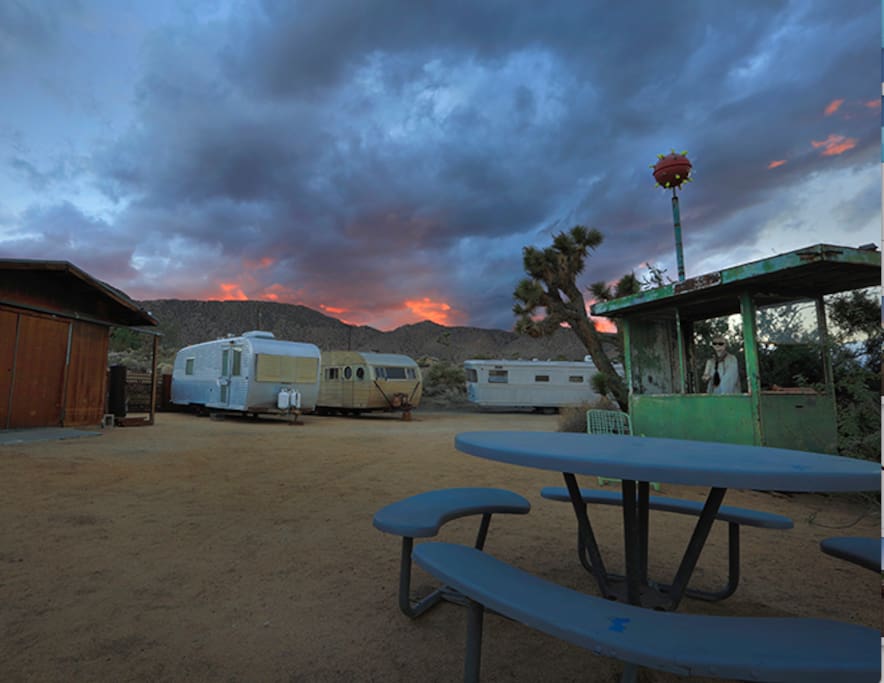 Our mission is this: take part in hands-on workshops, generate new work, form community, experiment with process and intention, and afterwards, share what you have made in Bad Ken: A Journal of Place.

Last year's participants allegedly declared:
If this was a cult, I'd join.
If only this was a few days longer.
This was the most magical weekend of my life.
Highlights of 2017's event included a living room reading by desert poet L.I. Henley and a pink sunset at 49 Palms Oasis during "Engaging the Web" and "Geologic Forms as Muse" workshops.
Statement on Inclusivity/Safe Space: This retreat and its facilitators strive to make this experience an inclusive and safe one for people of all identities, backgrounds, experiences and aesthetic orientations. We will work to meet requests for reasonable accommodations made in advance.
This retreat is not recommended for:
stiffs
anyone looking for a "typical" writing retreat
followers of the Western Canon

 
WARNING: In the past, our experiential retreat has been unorthodox, improvisational, and intellectually vigorous yet meandering. We follow our retreat schedule rhizomatically and change it on whims. It is an endearing or ostracizing looseness depending on your composition.